Elephant (Big Five collection)
David Shepherd
---
---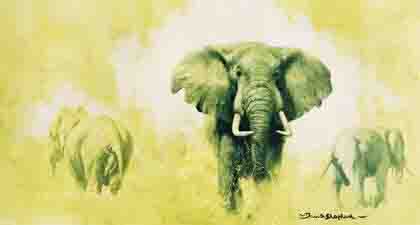 Elephant
Signed, limited edition
Published 1975
Image Size 15.75" x 9"
The Complete set of five images in wash/line mounting
Price £795 inc. vat
The Big Five
Rhino
Leopard
Lion
Buffalo
Elephant
The Elephant, one of the most majestic, and indeed troublesome animals in Africa.
They are in fact one of the few animals that can recognize them selves in a mirror,
and they do have an enormous memory capacity.
This picture is a signed limited edition.
it is known as one of The Big Five in Africa
The set of five signed limited editions were produced together in a porfolio.
These images can be purchased separately, but in some respects it is a shame to split the set as they are also all the same edition number.
BF elephant
African bull elephant
roosters
orang-utan
high noon
rhinos
African waterhole
Siberian tiger
shoeing time
street full of people
shapes and sizes
st. lukes, unsigned
Koala
in the thick stuff
three cats Alstow
leopards
landscape, oak