---
---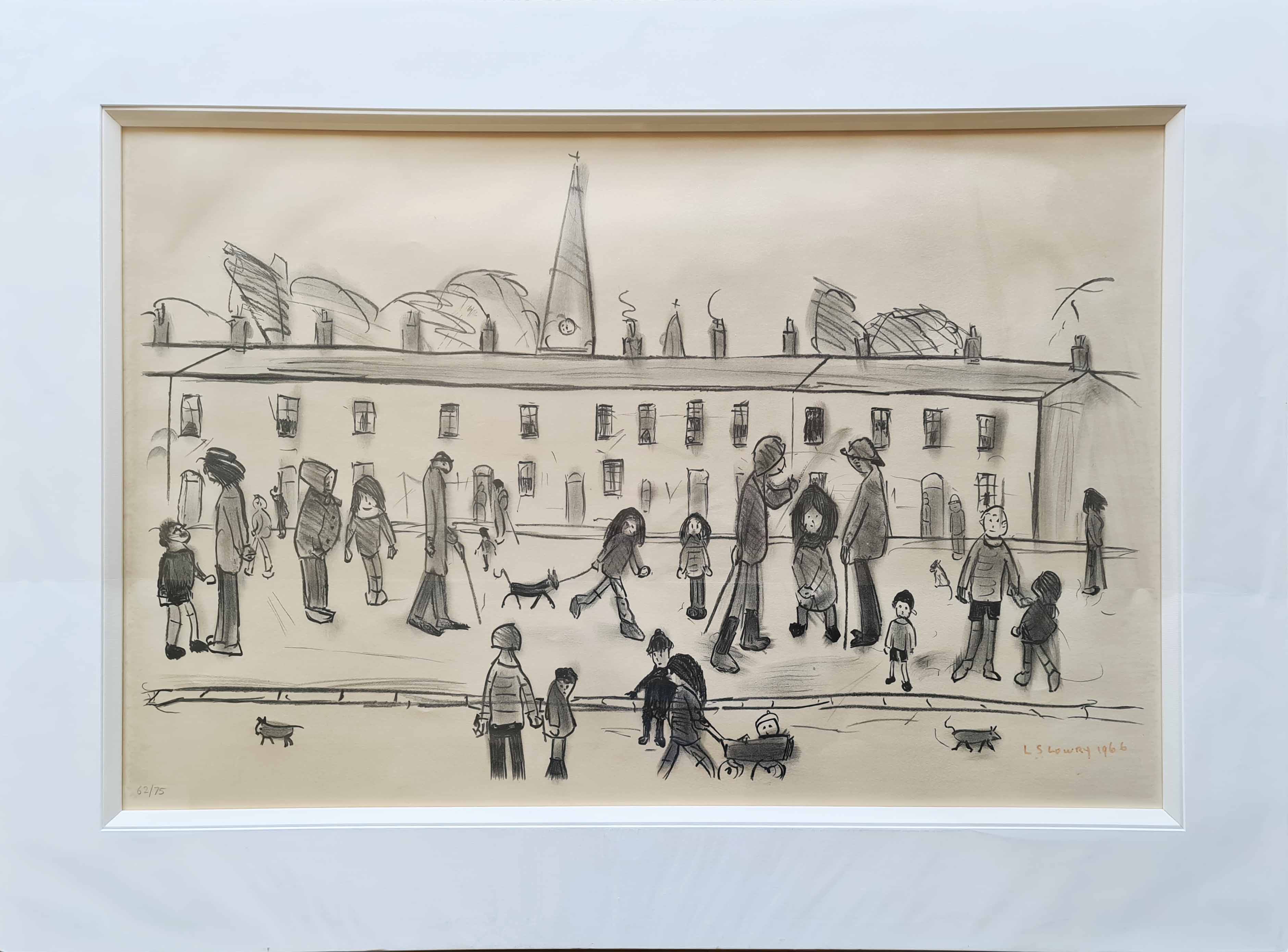 "A Street full of people"
Signed, Limited edition lithograph
Image size 23.25"x 37"
Published by Ganymed
An edition of 75
Numbered and signed
This Original lithograph in black chalk over a beige/grey background. 1966. Signed and dated in red felt pen.
Numbered in pencil from the edition of 75. Printed at the studio of H.Grace, London 1966. and issued by
Ganymed Original Editions, London 1966.
Ref: Ganymed - Lowry Lithographs no 2.
One of Lowry's two earliest and largest works in lithography.
'A Street full of People' was drawn by Lowry at the same date as 'A Village on a Hill'.
Like its companion piece it is drawn on a larger format sheet than any of the following lithographs by Lowry.
Also very rapidly sold-out at the time of its issue in 1966 it is now rarely seen on the market.
Lowry's leading position amongst 20th century British artists has now been well established, not least by the
opening of the Lowry museum.
In 1964 when he was less known, the leading critic Sir Herbert Read wrote the following tribute at the time
of an exhibition at Eccles:
'L.S.Lowry is a unique artist for a number of reasons. Other painters of our time are independent, belonging to
no school or movement, but they are usually traditionalists of some kind. Lowry is original,
and even revolutionary, in his vision. No one else to my knowledge has been so sensitively aware of the
poetry of the English industrial landscape. Usually condemned as ugly - and it is ugly if we look at it from
a conventional point of view - it can nevertheless be transformed if seen objectively, as a subtle harmony of
lines, against which the industrial marionettes move in a danse macabre.'
It was in the animation and resilience of the people of the industrial urban scene which fascinated Lowry,
and in 'Village on a Hill' and ' A Street Full of People' it is just this vitality, self-sufficiency and
independence which is captured in the quasi-humorous, but also totally serious, simplicity of Lowry's drawing.
Price:- Please call 01623 799 309
d@art.info
01623 799 309