Steps Peel Park (original)
---
---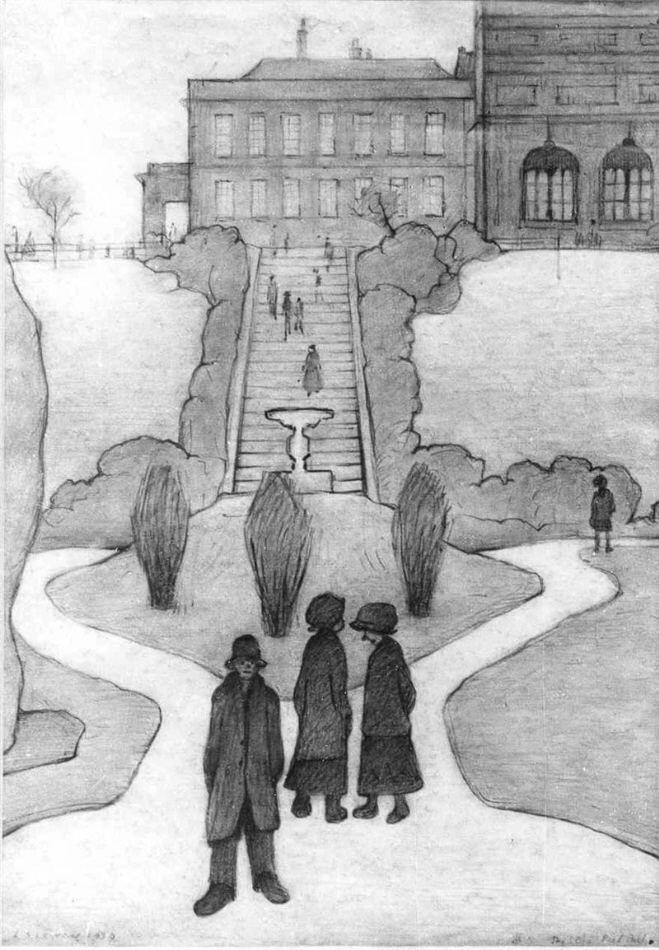 "Steps, Peel Park"
Image size
Original Drawing
Once again, another drawing in Peel Park, undoubtedly one of Lowry's favourite places for drawing.
This original piece is not for sale, and I am unsure who actually owns the work.
It is for reference, and for your pleasure.
If you wish to purchase an original signed limited edition print from the era 1960s to 1970s, please visit the 'Signed Limited Edition Prints' at the top of the page on the left.
The Park is named after former Prime Minister Sir Robert Peel, elected from 1834 to 1835 and 1841 to 1846.
He's famed for modernising the country's social and economic policies.
He particularly made a huge impact on the people of Salford through his reforms, which limited the hours that women and children could work in factories.
As well as founding the police force, and repealing the Corn Laws – ensuring cheap bread for the population.
Peel Park is a public urban park in Salford, Greater Manchester, England, located on the flood plain of the River Irwell below Salford Crescent and adjacent to the University of Salford.
Signed, limited edition, prints and original paintings, drawings for sale.
EMAIL:-administrator@lowry.co.uk


wildlife artist David Shepherd
William Russell Flint
L.S. Lowry
Our aim is to offer our clients an excellent service at unbeatable prices.
Back to the Lowry home page