Leopard (big five)
David Shepherd
---
---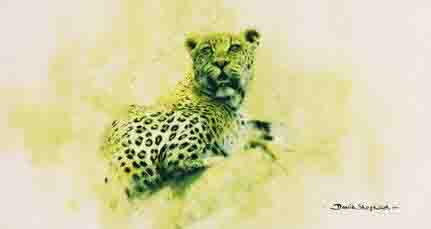 Leopard
Signed, limited edition
Published 1975
Image Size 15.75" x 9"
The Complete set of five images in wash/line mounting
Price £795 inc. vat
The Big Five
Rhino
Leopard
Lion
Buffalo
Elephant
In India, nine pale and white leopards were reported between 1905 and 1967.
Leopards exhibiting erythrism were recorded between 1990 and 2015 in South Africa's Madikwe Game Reserve and in Mpumalanga.
The cause of this morph, known as a 'strawberry leopard' or 'pink panthe', is not well understood.
EMAIL:-
administrator@davidshepherd.com
France
offering complete tranquility and relaxation.
For those who appreciate the wildlife of Africa, India and Britain, prints and paintings by David
Shepherd
The work of L.S. Lowry has become some of the most sought after in British history; his paintings and signed
prints
are achieving record prices in the artworld,
made even more collectable due to the rarity of the work and the relatively few signed limited edition prints that have been published.