Cheetahs 1967
David Shepherd
---
---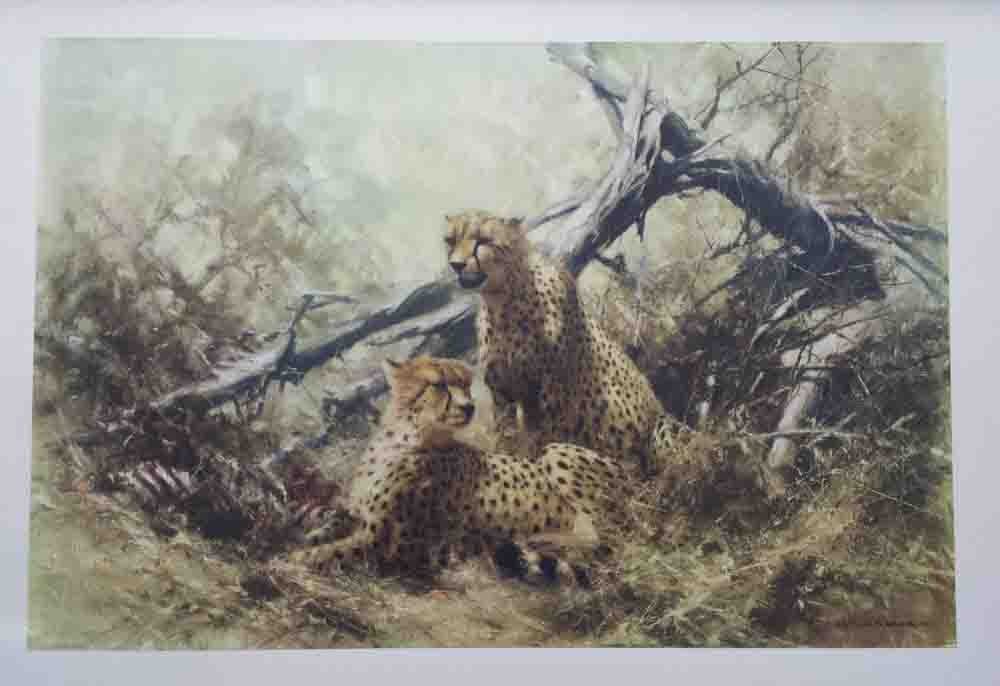 Cheetahs 1967
Signed, limited edition print
Date of publication 1967
Image Size 29"" x 19"
This was the second published signed limited edition released
The cheetah has been widely portrayed in a variety of artistic works.
In Bacchus and Ariadne, an oil painting by the 16th-century Italian painter Titian, the chariot of the Greek god Dionysus (Bacchus) is depicted as being drawn by two cheetahs.
The cheetahs in the painting were previously considered to be leopards.
In 1764 English painter George Stubbs commemorated the gifting of a cheetah to George III by the English Governor of Madras, Sir George Pigot in his painting Cheetah with Two Indian Attendants and a Stag.
The painting depicts a cheetah, hooded and collared by two Indian servants, along with a stag it was supposed to prey upon.
The 1896 painting The Caress, by the 19th-century Belgian symbolist painter Fernand Khnopff, is a representation of the myth of Oedipus and the Sphinx.
It portrays a creature with a woman's head and a cheetah's body (often misidentified as a leopard's).
EMAIL:-
administrator@davidshepherd.com
signed prints
and original paintings and drawings by the world acclaimed artist
L.S. Lowry
.
Sir William Russell Flint
read
here.