Summer Time
David Shepherd
---
---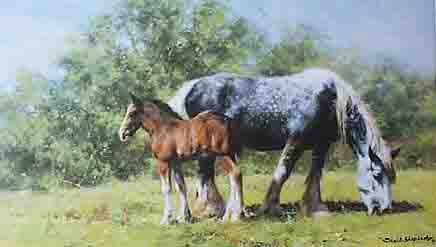 Summertime
Signed, limited edition
Published 1995
Image Size 9" x 15"
What are white horses called?
Although white horses are sometimes called 'albino' there are no reported cases of a true 'albino' horse.
There are also references in literature calling white horses 'albino'.
What is the rarest horse color?
The most desirable horse color is bay, followed by chestnut, dark brown, and black.
Among racehorses, there are many successful colors: bay, chestnut, and brown horses win a lot of races.
Pure white is the rarest horse color.
Signed, limited edition, prints and original paintings, drawings for sale.
30 years experience and a collection of hundreds of David Shepherd signed, limited edition prints in the UK!
Studio open, 7 days a week!
Viewing by appointment
EMAIL:-
administrator@davidshepherd.com
Back to David Shepherd signed prints for sale