Landscapes
David Shepherd
---
---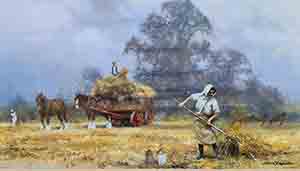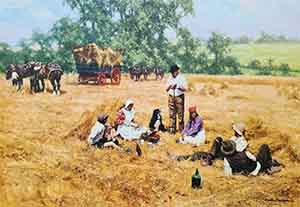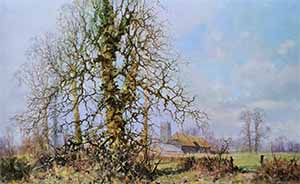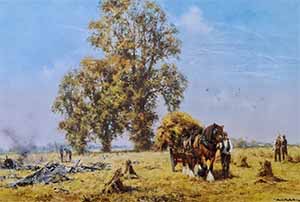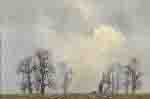 While the sun shines The Lunchbreak This England Life Goes On Landscape with Oak
Signed, print Signed, print Signed, print signed, limited edition print Original Painting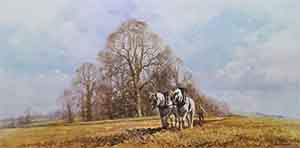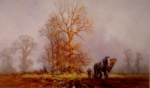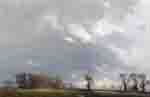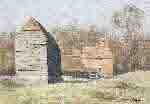 Spring Ploughing 'Last leaves of Autumn' Captain and Sergeant Study of Clouds and Sunlight Landscape with Farm Buildings
signed limited edition Published 1987 the first furrows of Autumn Original Painting Original Painting
David Shepherd, CBE, FRSA, FRGS, OBE.
Known internationally as one of the world's leading wildlife artists,
and also a passionate conservationist and he freely admits that he owes much success to the animals he paints. Prolific in output as a painter with a brimful of stories and anecdotes, he is an extrovert who enjoys talking, and enjoys being known as a natural promoter and an ardent ambassador for conservation; it's the way he is.
Explaining that he became an artist in childhood because he couldn't do anything else. "My life was a total disaster until I was 20 years old. My one and only ambition was to be a gamewarden, so when I'd finished my education, I went rushing out to Kenya with the incredibly arrogant idea that I was God's gift to the National Parks. It was a disaster. I knocked on the door of the Head Gamewarden in Nairobi and said, 'I'm here, can I be a game warden?' I was told I wasn't wanted. My life was in ruins; that was the end of my career in three seconds flat." "Up to that point, my only interest in art had been as an escape from the rugger field. The game was compulsory at school and I was terrified of it. I couldn't see any fun in being buried under heaps of bodies in the mud and having my face kicked in. I fled into the art department where it was more comfortable and painted the most unspeakably awful painting of birds."
Deflated and homesick, he took a job as a receptionist in a hotel on the Kenya coast; the salary was one pound a week.
"So there I was at Malindi on the Kenya Coast in this hotel. I painted some more bird paintings on plasterboard, and I sold seven of them for £10 each to the
culture-starved inhabitants of the town and paid my passage home to England on a Union Castle steamer."
Arriving home, penniless, he had two choices,Mr Shepherd decided he could either become an artist or a bus driver.
Since he suspected that most artists starved in garrets, life as a bus driver seemed the safer bet.
Back to David Shepherd signed prints for sale