Pandas of Wolong
David Shepherd
---
---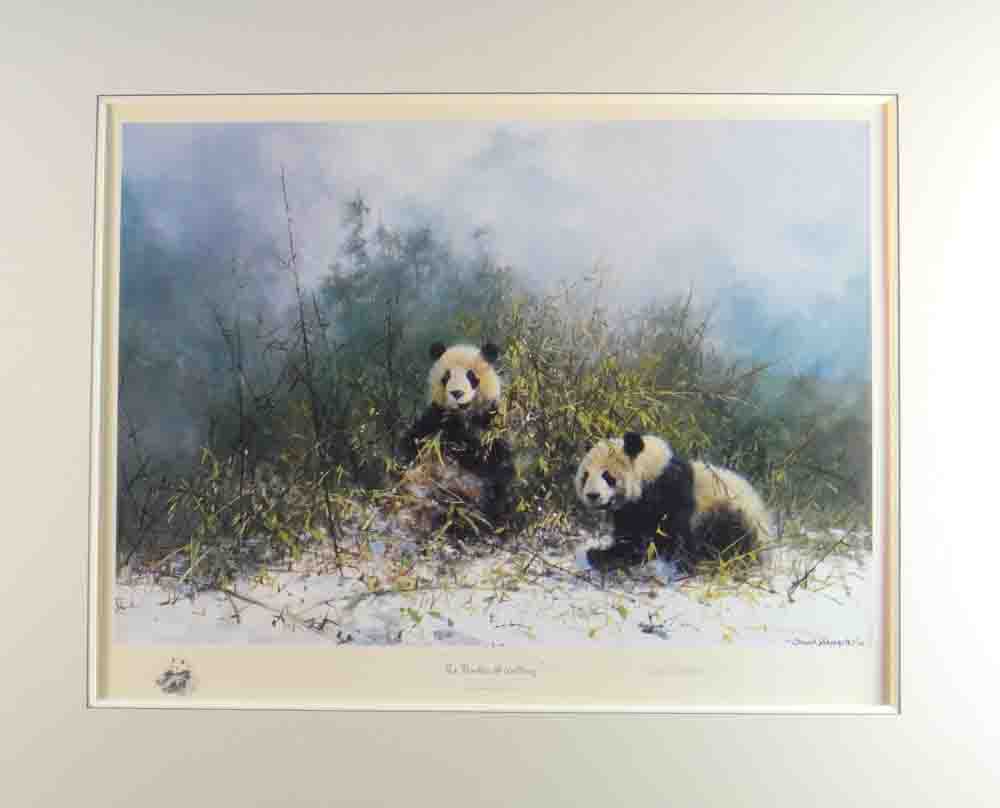 "Pandas of Wolong"
Signed Limited Edition print
Image Size:- 17.25" x 24.75"
Published:- 1994
The giant panda lives in a few mountain ranges in central China, mainly in Sichuan, but also in neighbouring Shaanxi and Gansu.
As a result of farming, deforestation, and other development, the giant panda has been driven out of the lowland areas where it once lived, and it is a conservation-reliant vulnerable species.
A 2007 report showed 239 pandas living in captivity inside China and another 27 outside the country.
As of December 2014, 49 giant pandas lived in captivity outside China, living in 18 zoos in 13 different countries.
Wild population estimates vary; one estimate shows that there are about 1,590 individuals living in the wild,[13] while a 2006 study via DNA analysis estimated that this figure could be as high as 2,000 to 3,000.
Some reports also show that the number of giant pandas in the wild is on the rise.[16] In March 2015, conservation news site Mongabay stated that the wild giant panda population had increased by 268, or 16.8%, to 1,864.
In 2016, the IUCN reclassified the species from 'endangered' to 'vulnerable', affirming decade-long efforts to save the panda.
In July 2021, Chinese authorities also reclassified the giant panda as vulnerable rather than endangered.
While the dragon has often served as China's national symbol, internationally the giant panda has often filled this role.
As such, it is becoming widely used within China in international contexts, for example, appearing since 1982 on gold panda bullion coins and as one of the five Fuwa mascots of the Beijing Olympics.
Allowing a larger group of individuals to roam through a larger area freely enables them to choose from a greater variety of mates and helps to enrich genetic diversity of their offsprings.
signed prints and original paintings and drawings by the world acclaimed artist L.S.Lowry.
Sir William Russell Flint.
© S & W signed, limited edition print publishers ©
David Shepherd prints
If you would like to visit the studio in Nottinghamshire, (Saturdays and Sundays are fine too) Please call 01623 799 309 We have a collection of over 500 David Shepherd signed limited edition prints and original paintings for sale.
30 years experience and a collection of hundreds of David Shepherd, limited editions!
Studio open, 7 days a week!
Viewing by appointment
Back to
David Shepherd prints
for sale.