Fakes
---
---
Sadly the art world is plagued by fake Lowry paintings and drawings.
For this reason it is essential to have a provenance 110 percent
that can trace the work back to Mr Lowry, or that of a reputable gallery.
This painting on wood approximately 8 by 4 inches was bought at an
auction house in Ontario by a Canadian couple
It is one of many fakes... coming under the title:-
'after lowry', 'in the style of lowry', 'faux' Lowry, 'pastiche'
It is quite simply a copy... A counterfeit painting.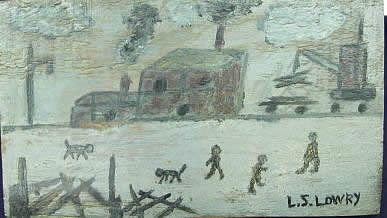 Fake painting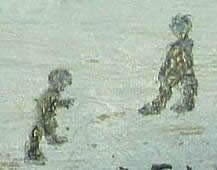 Fake close up

By comparison, the detail, the clarity and the quality of work is poor in the fake painting. Lowry's paintings have a certain character and clarity which becomes apparent on closer inspection.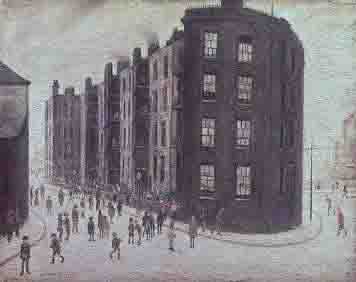 Lowry painting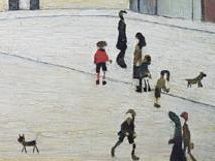 Lowry painting close up
This year will be a major event for Lowry's work, as the Tate Britain is showing the 1st exhibition of Lowry's work, since he died in 1976. Approximately 80 paintings and drawings will be on display, which will undoubtedly greatly increase the value and popularity of his work, which has already become a major investment in recent years. It is amusing to think how Lowry may consider the recent honours for his paintings. He apparently holds the record for declining the most honours.
The Lowry gallery cost £106 million and was built in his honour in the year two thousand. permanent display there are dozens of drawings and 55 paintings
Lowry's Signature
It is not difficult to see the differences between the two signatures.
By examining and comparing each letter in particular the S, W, R, Y...
it becomes obvious that these two signatures were not written by the same hand.

Lowry's signature


Forged signature of Lowry
Famous for his portraits of Cecilia, Flint's greastest works illustrate the architecture and landscape throughout rural France
This holiday house near Brantome, France is ideally situated to enjoy the Dordogne Read
more
The work of Mr L.S. Lowry has become of great artistic and financial importance of recent years. A selection of his prints and paintings can be viewed
here
Our aim is to offer our clients an excellent service at unbeatable prices.