Kenya
David Shepherd
---
---
William Gray meets the renowned artist painting a brighter future for the world's wildlife.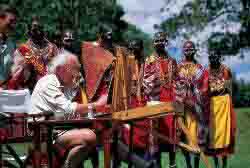 David Shepherd is one of the world′s most successful wildlife artists.
Travelling the world, painting everything from polar bears to tigers, he has raised over £3 million for endangered species through the David Shepherd
Wildlife Foundation which, this year, celebrates its 20th anniversary.
Ever go anywhere purely for a holiday?
No. If you want to kill me, take me to Barbados, put me in a deckchair and give me a gin and tonic, I′d go insane in an hour. I don′t want to rest. Life gets more exciting as you get older, I′m 73, but feel about 43.
Where′s your favourite place?
Ranthambhore National Park, India. Even if you don′t see a single animal it′s still pure Rudyard Kipling: the jungle ruins, the huge tree
roots growing in and out of the stone, the pools and palaces. I′m totally besotted with the place.
Then there′s Sri Lanka, where you can see Indian elephants in the sea and on the beach. Much as I adore African elephants, the Indian elephant is much more endangered,
just 35,000 left as opposed to around 600,000. There were probably five million African jumbos when I was born it′s frightening.
Is it fair to say you owe much of your success to elephants?
Yes. And tigers and rhinos. They′re all part of the intricate balance of nature that we′ve buggered up. I am so grateful to wildlife. Every wildlife artist I know says the same.
It′s done so much for us, we feel an obligation to give something back.
What frustrates you most about the plight of endangered species?
Politicians and heads of industry. How many big corporations really care about conservation issues? Very few. Esso, for example, haven′t done enough to
save the tiger. Instead of their Price Watch campaign, they should give a million pounds to tiger conservation.
How do you measure the success of one of your paintings?
If people say, ′My God, you can almost smell it.′ Apparently, I get the atmosphere of Africa into my paintings, that′s because I′ve been there. All a camera does is
record the shape of something.
Where do you most like to paint?
South Luangwa, Zambia. And Savute, Botswana, where you can get right up to the elephants. I love to paint all those scars on a lion′s nose.
What do you never travel without?
Sunglasses, but I′m terribly forgetful. I′ve photographed innumerable anthills and termite mounds , all of which probably still have a pair of my sunglasses on top.
So you don′t rate digital photography?
I′m scared of anything new and I certainly wouldn′t know how to work a digital camera. But I do have an old fashioned Minolta that I use to ′sketch′ with. In Africa I once found
an interesting bit of dead wood beside the road, so I got out and photographed it probably 20 times from different angles. That piece of wood has no doubt appeared in dozens of my paintings.
Do you have any tips for aspiring wildlife artists?
Well, go to Africa. To see animals in the wild is very different from seeing them in a safari park. For example, lions in captivity get fat, indolent and have heavy manes.
In Africa they fight, run through bushes and get cuts and scratches. I love to paint all those scars on a lion′s nose.
Where are you off to next?
South Africa , we′ll be running one of my steam engines to raise money for wildlife. I have an awful habit of collecting large toys.
How would you like to be remembered most, as an artist or conservationist?
If I′m remembered for anything, I would like it to be artist and conservationist.
To me they are both totally interlinked. If I have anything on my gravestone it′ll be, ′At last I′ve stopped talking′.
But there will also be a money slot in the top with the words, ′But please go on helping to save the tigers, elephants, rhinos.′
administrator@davidshepherd.com
David Shepherd started his painting career at school in Stowe, and persevered whilst trying to become a game warden in Africa.
It was not until he was taken on as an apprentice by a highly regarded professional artist, Robin Goodwin, that he was able to
concentrate fully on his work and begin to develop what was to become his unique style.
Most of David's work is painted in oil on canvas, apart from drawings and sketches of course. He prefers this medium to achieve
the rich depth of colour that is always present in his pictures.
David Shepherd has now become world famous for his art, and his paintings, regarded as some of the finest wildlife paintings in the world
can change hands for staggering amounts of money. His history throughout the art world and the many awards he has received has meant that
his paintings are now seen as one of the best financial investments available.
We specialize in
signed prints
and original paintings and drawings by the world acclaimed artist L.S. Lowry.
The demand for his work has now reached record highs, and due to the relatively few signed limited edition prints available,
they are proving to be an excellent investment, much greater than any current banking investments.
A watercolourist, whose work needs little introduction in the world of art is Sir William Russell Flint.
We stock hundreds of this artist's signed limited edition
prints
and always a fine selection of his original watercolour paintings.
Throughout his life Sir William Russell Flint has spent many years painting beautiful watercolour images of scenes in France,
in particular Dordogne and the Perigord, where this beautiful
holiday
house is to let click here
and offers complete tranquility and relaxation.
There are also a number of signed limited edition prints of paintings from Britanny, The Loire, Ardeche, Provence.
We have for sale several original paintings from the south west France, near to the beautiful towns of Brantome and Perigueux and also Languedoc
His work has now become regarded as some of the finest watercolour paintings in the world.
Back to
David Shepherd
prints for sale.