Tigers of Bandhavgarh
David Shepherd
---
---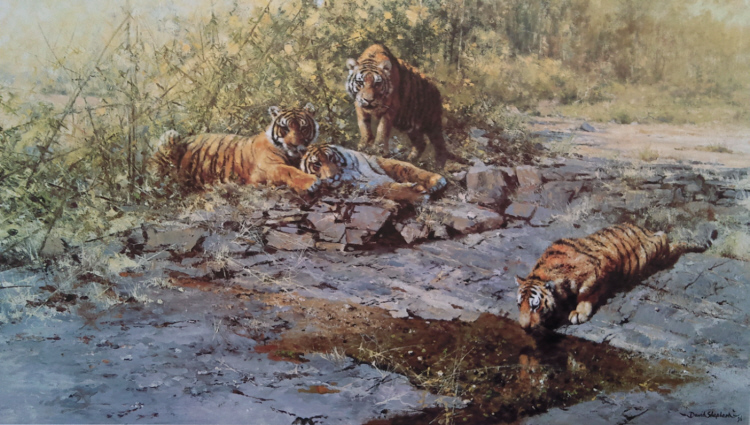 "The Tigers of Bandhavgarh"
Signed Limited Edition Print
Date of publication July 1990
Image Size 28" x 17"
mint condition
How many tigers are in Bandhavgarh?
Boasting between 60 and 70 tigers within its modest footprint, Bandhavgarh National Park is one of the best places in India to see these beautiful cats.
Why is Bandhavgarh famous?
Bandhavgarh National Park was formerly a royal hunting reserve of the princely state of Rewe, where the first white tiger was found in the wild.
It has the highest known density of Bengal tigers in India.
The reserve is also densely populated with other species: the gaur, or Indian bison, are now extinct or have migrated elsewhere;
sambar and barking deer are a common sight, and nilgai are to be seen in the open areas of the park.
There have been reports of the Indian wolf (canis lupus indica), striped hyena, and the caracal the latter being an open country dweller.
The tiger reserve abounds with chital or the spotted deer which is the main prey animal of the tiger and the Indian leopard (Panthera pardus fusca).
The Indian bison were reintroduced from Kanha.
If you would like to visit the studio in Nottinghamshire, (Saturdays and Sundays are fine too) Please call 01623 799 309
We have a collection of over 500 David Shepherd signed limited edition prints and original paintings for sale.
Signed, limited edition, prints and original paintings, drawings for sale.
30 years experience and a collection of hundreds of David Shepherd signed, limited edition prints in the UK!
Studio open, 7 days a week!
Viewing by appointment
EMAIL:-administrator@davidshepherd.com
Back to David Shepherd signed prints for sale