Tiger's head
David Shepherd
---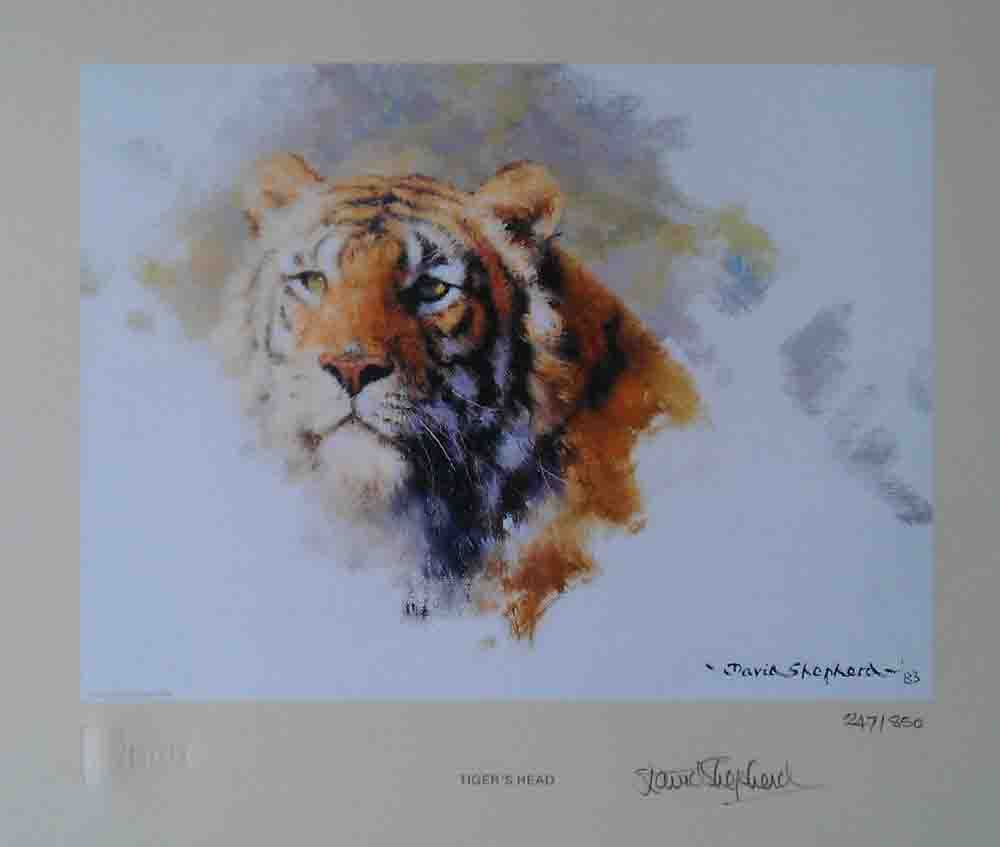 Tiger Head.
Signed Limited Edition print of 850
Date of publication:- 1983.
Image Size:- 9" x 5.5"
All cats, large and small, enjoy basking in the warmth of the sunlight.
Biography of wildlife artist, David Shepherd, CBE, FRSA, FRGS, OBE.
Internationally recognized as the world's best wildlife artist. David Shepherd has at all times felt that he had a duty in the form of conservation towards the world and the animals that inhabit our planet. In his lifetime, David Shepherd has painted and drawn many pictures, and is able to share his many tales and experiences with people internationally, often talking at charity dinners and prestigeous social events. His persona lends itself naturally to this cause, as he is a most approachable down-to-earth fellow who enjoys sharing his pleasure of art and his concern over the diminishing wildlife throughout the world. In his early days, he was 'thrown' into the creative world purely by chance, as he wasn't particularly keen about other college activities.
David Shepherd is commonly quoted as saying that upto his late teens his life was not very successful, as he always had an ambition to be a game warden in Africa. So after ending his schooling, David Shepherd left England with the concept of a career within the national parks of Africa. Unfortunately, he was promptly instructed that there was no place for him, and his childhood desires lay in ruins. Throughout school days, his foremost curiosity in art had been as a substitute for the compulsary games of rugby which left him with quite frightened.
Unable to understand what would possibly possess people to roll around a muddy rugby pitch and endure horrible injury, David Shepherd took refuge in the faculty artwork department where he produced a hideous picture of some birds, which he brings along with him to this present day when public speaking.
After his dissappointment at not been given the chance to be part of Kenya's game warden neighborhood, he managed to find a job in a neighborhood resort on the coast working within the reception for one pound per week. David Shepherd started to paint pictures of birds, and by chance managed to sell seven pictures at ten pounds a canvas, which allowed him to pay for his ticket back to England on the Union Castle steamship.
Back to David Shepherd signed prints for sale