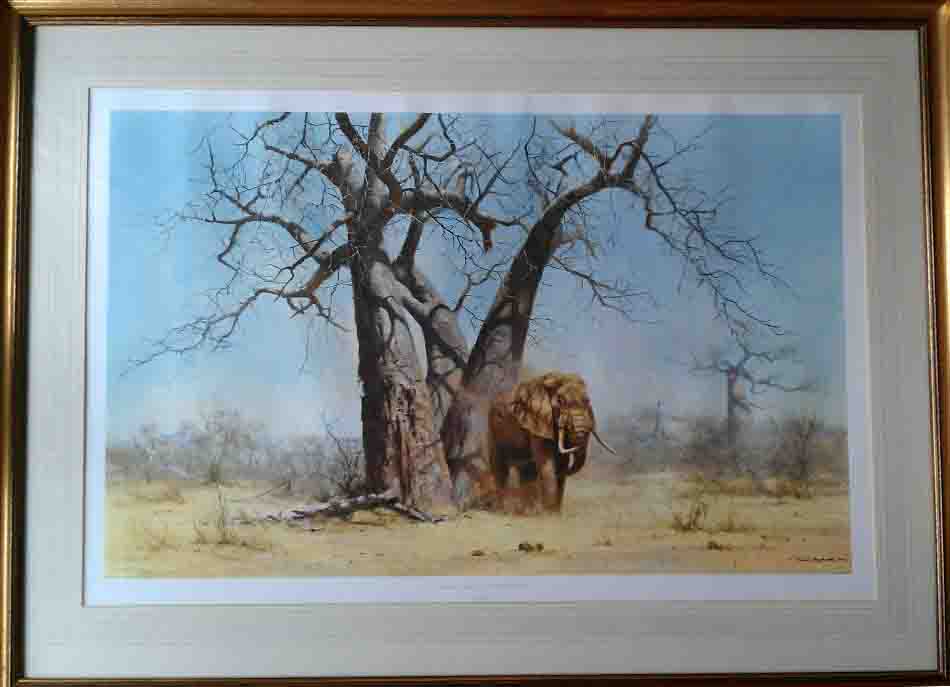 The above signed limited edition print is in mint condition
Title:-
Old George Under His Favoutire Baobab Tree
Published 1968
This was the fourth painting by David Shepherd to be published as a signed limited edition.
The printing process at that time was not as developed as it is today, and light fast inks together with acid free paper had not been widely used in the industry.
As a consequence the vast majority of this edition has been lost; damaged beyond all repair by the UV in the light..
It is extremely rare to find this title in mint condition, and this particular picture was owned and kept in first class condition by the publishers themselves.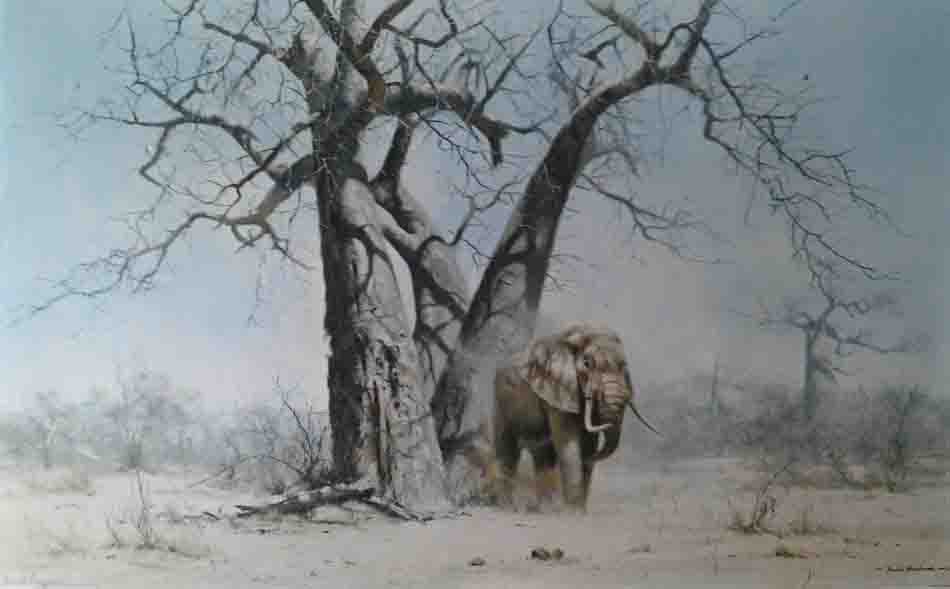 'Old George under his favourite Baobab tree'
very rare limited edition
Date of publication 1968
Image Size 33" x 20.75"
This print was published as a very low run (200 copies I think) signed, limited edition
It was also part of a larger publication at the time of 1,500 copies, of which 1,300 were not signed
This print is one of the original signed, limited editions; unfortunately (as was often the case in the 1960's
the surrounding margin has been cut off and it has been dry mounted onto board
It is definately one of the signed, limited editions, as it is signed personally by David Shepherd,
and he (quite rightly so) refuses to sign any of the (1,300) edition that has been published as an unsigned print
Unfortunately it has seen better days, and there is a scratch top left (although not too noticeable)
Had this signed edition been in mint condition, we would be asking well in excess of £1,000
It is therefore £98 inc. vat (which perhaps illustrates the value of work in terms of its condition)
This title as a signed edition is extremely rare and a 'one-off' opportunity for a collector to find this image at this price.
Signed, limited edition, prints and original paintings, drawings for sale.
30 years experience and a collection of hundreds of David Shepherd signed, limited edition prints in the UK!
Studio open 7 days a week!
Viewing by appointment
EMAIL:-
administrator@davidshepherd.com
Back to David Shepherd signed prints for sale