Ocelot cub cameo
David Shepherd
---
---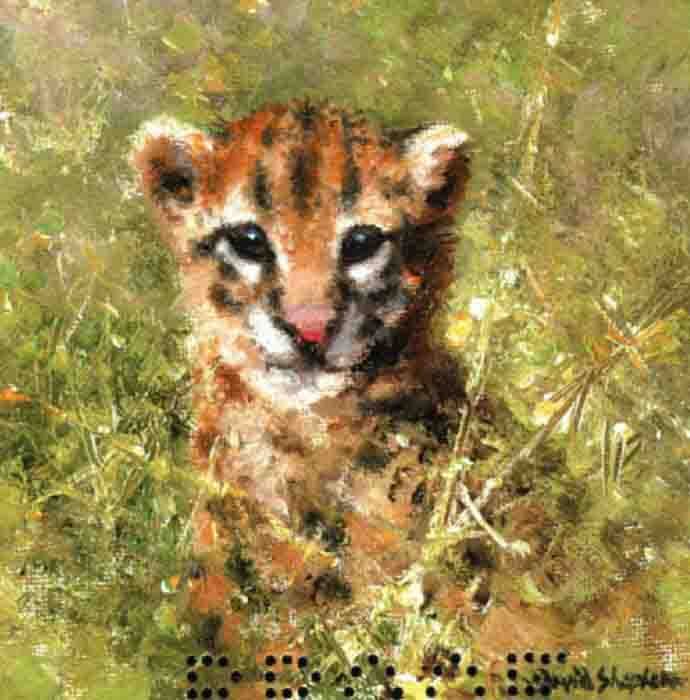 Ocelot cub cameo
Signed Limited Edition print of 850
Published March 2004
Image Size:- 4.25" x 4.25"
Complete with siver french bound mount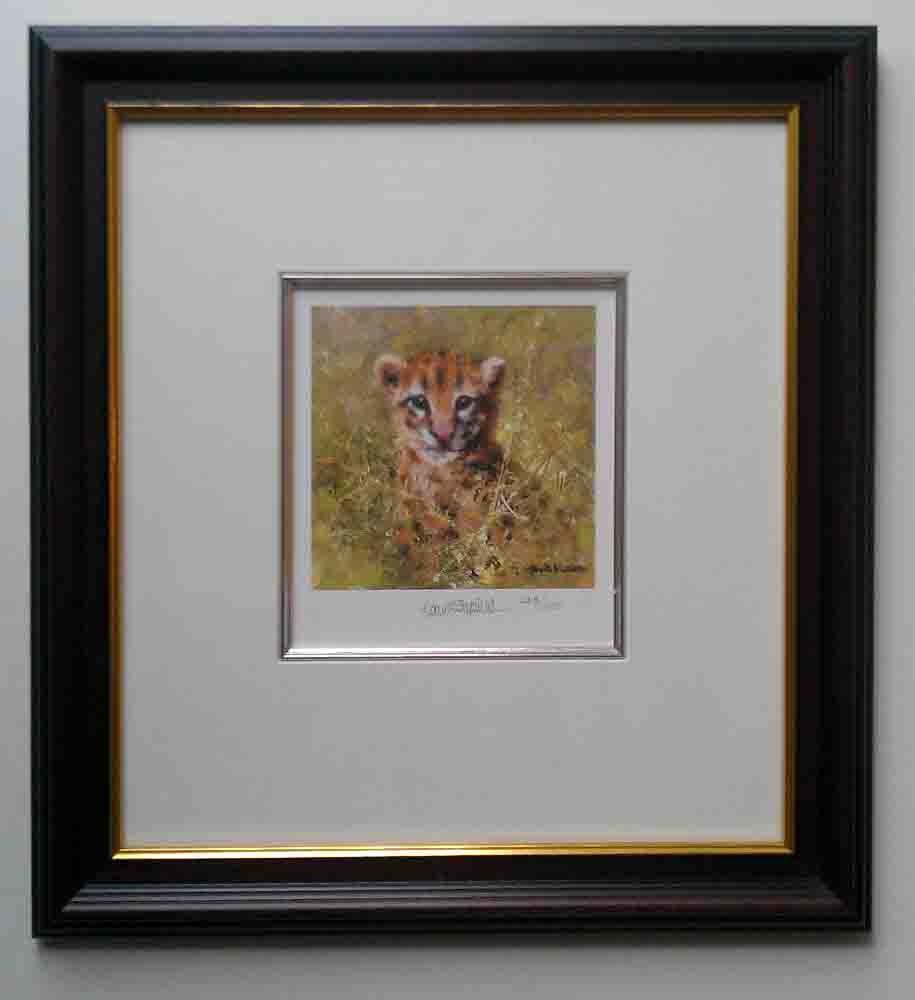 In stock:- price; please call
The largest member of its genus, the ocelot is a medium-sized cat with a head-and-body length of between 21.7 and 39.4 in and a 11.8 to 17.7 in long tail.
It typically reaches 15.7–19.7 in at the shoulder.
The weight of females ranges between 15 and 26 lb and of males between 15.4 and 34.2 lb.
Its footprint measures nearly 0.8 in × 0.8 in.
The ocelot's fur is extensively marked with solid black markings on a creamy, tawny, yellowish, reddish gray or gray background color.
The spots on the head and limbs are small, but markings on the back, cheeks, and flanks are open or closed bands and stripes.
A few dark stripes run straight from the back of the neck up to the tip of the tail. Its neck and undersides are white, and the insides of the legs are marked with a few horizontal streaks.
Its round ears are marked with a bright white spot.
Its fur is short, about 0.3 in long on the belly, but with about 0.4 in long guard hairs on the back.
The body has a notably strong odor.
Each ocelot has a unique color pattern, which can be used to identify individuals.
If you would like to visit the studio in Nottinghamshire, (Saturdays and Sundays are fine too) Please call 01623 799 309
We have a collection of over 500 David Shepherd signed limited edition prints and original paintings for sale.
Signed, limited edition, prints and original paintings, drawings for sale.
30 years experience and a collection of hundreds of David Shepherd signed, limited edition prints in the UK!
Studio open, 7 days a week!
Viewing by appointment
Back to David Shepherd signed prints for sale