Jaguars page
David Shepherd
---
---
A collection of Jaguars by David Shepherd published as signed limited edition prints by Solomon and Whitehead.
Click on image for details & to ENLARGE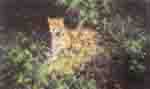 Jaguar
Signed limited edition print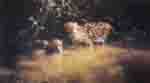 Jaguars
Signed limited edition print
© S & W signed, limited edition print publishers ©
David Shepherd prints
Only two publications of Jaguars.
We are lucky to have acquired several of 'Jaguar' in mint condition, available less than the original published price.
Jaguars are the largest of South America's big cats and the third largest cats in the world.
Their fur is usually tan or orange with black spots, called "rosettes" because they are shaped like roses.
Some jaguars are so dark they don't seem to have spots.
If you would like to visit the studio in Nottinghamshire, (Saturdays and Sundays are fine too) Please call 01623 799 309 We have a collection of over 500 David Shepherd signed limited edition prints and original paintings for sale.
30 years experience and a collection of hundreds of David Shepherd, limited editions!
Studio open, 7 days a week!
Viewing by appointment
Back to
David Shepherd prints
for sale.