Germiston
David Shepherd
---
---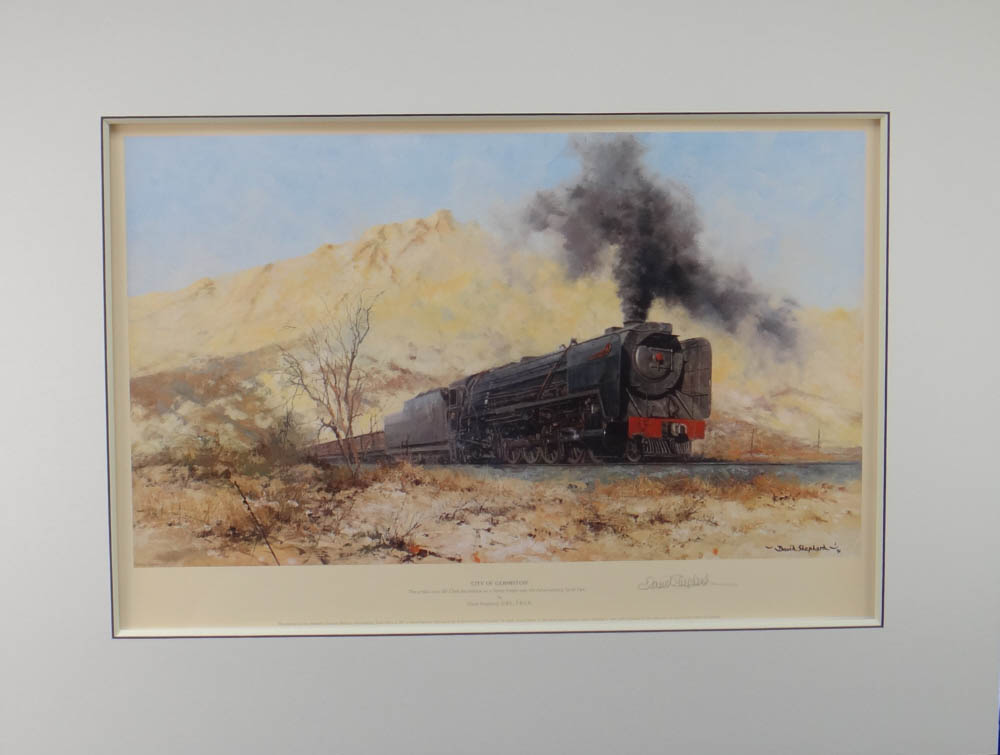 City of Germiston
Signed print
Published 1991
Image size 24" x 14"
Overall size complete with french bound mounting as shown 33" x 25"
Excellent condition
The original was donated to the Transnet museum, Johannesburg, South Africa
It was established in the early days of the gold rush when two prospectors, John Jack from the farm of Germiston near Glasgow and August Simmer from Vacha in Germany, struck paydirt on the farm of Elandsfontein.
In August 1887, the pair were on their way to the Eastern Transvaal when they outspanned (rest the pack animals) on the farm Elandsfontein and decided to stay and buy the land.
Both men made fortunes and the town sprang up 2 km from the Simmer and Jack mine named after Jack's fathers farm.
In 1921 the world's largest gold refinery, the Rand Refinery, was established at Germiston. Seventy percent of the western world's gold passes through this refinery.
Although gold mining gradually wound down in Germiston, to the point that by the end of the 20th century it was no longer a mining centre, the Rand Refinery remains as busy as ever.
Signed, limited edition, prints and original paintings, drawings for sale.
30 years experience and a collection of hundreds of David Shepherd signed, limited edition prints
Studio open, 7 days a week!
Viewing by appointment
administrator@davidshepherd.com