Falklands, Casevac
David Shepherd
---
---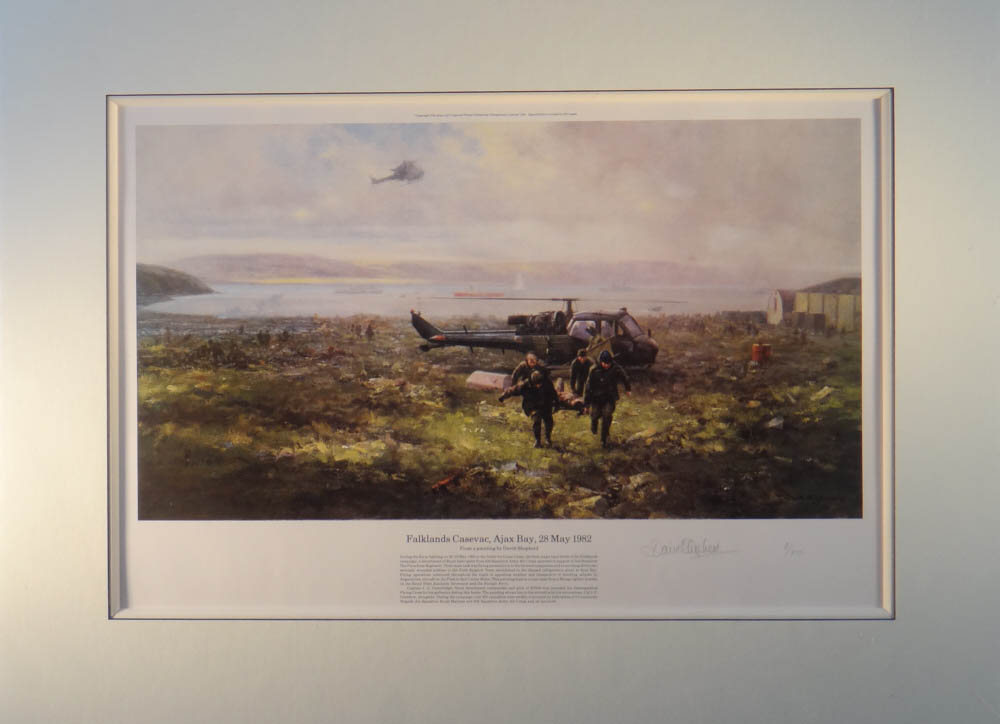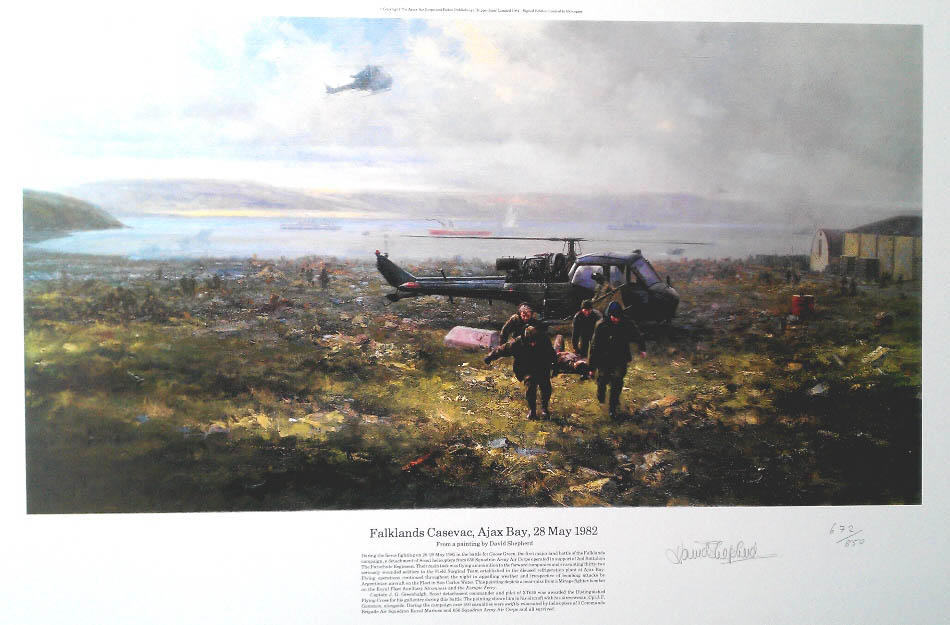 Falklands Casevac, Ajax Bay, 28th May, 1982
Signed Limited Edition of 850
Published 1984
Image Size approx 20" x 11"
Despite fierce fighting on 28/29 May, 1982 in the battle for Goose Green, the first major land battle of the Falklands campaign, a detachment of Scout helicopters from 656 squadron Army Air Corps operated in support of 2nd Battalion The Parachute Regiment. Their main task was flying ammunition to the forward companies and evacuating thirty-two seriously wounded soldiers to the Field Surgical Team established in the disused refridgeration plant at Ajax Bay. Flying operations continued throughout the night in appalling weather and irrespective of bombing attacks by the Argentine aircraft on the Fleet in San Carlos Water. This painting depicts a near-miss from a Mirage fighter-bomber on the Royal Fleet AuxiliaryStromness and the Europic Ferry. Captain J.G.Greenhalgh, scout detachment commander and pilot of XT649 was awarded the Distinguished Flying Cross for his gallantry during this battle. The painting shows him in his aircraft with his aircrewman Cpl J.F.Gammon alongside. During the campaign over 400 casualties were swiftly evacuated by helicopters of 3 Commando Brigade Air Squadron Royal Marines and 656 Squadron Army Air Corps and all survived.
Signed, limited edition, prints and original paintings, drawings for sale.
30 years experience and a collection of hundreds of David Shepherd signed, limited edition prints
Studio open, 7 days a week!
Viewing by appointment
administrator@davidshepherd.com
Sir William
Russell
Flint.
We stock hundreds of this artist's signed limited edition prints and always a fine selection of his original watercolour paintings.
In the heart of Sir William Russell Flint country, deep in south west France, near to the beautiful towns of Brantome
and Perigueux is a
House
to let in France offering complete tranquility and relaxation.
For those who appreciate the wildlife of Africa, India and Britain,
prints
and paintings by David Shepherd
The work of L.S.
Lowry
has become some of the most sought after in British history; his paintings and signed prints are achieving record prices in the artworld,
made even more collectable due to the rarity of the work and the relatively few signed limited edition prints that have been published.