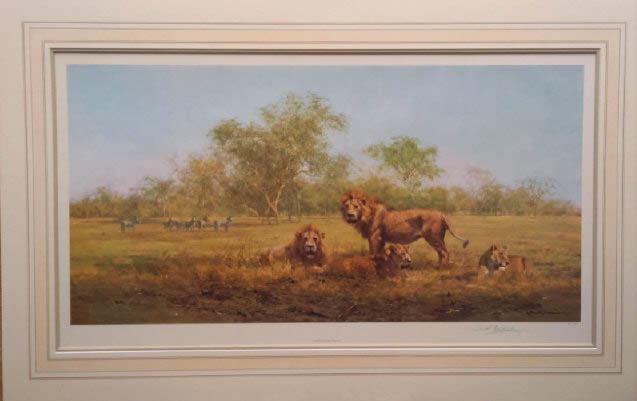 "Evening in the Luangwa
Signed, limited edition
Date of publication 1978
Image Size 18.5" x 37"
Mint condition
"Evening in the Luangwa" is a large painting of exceptional quality,
This copy is illustrated with a wash/line french bound mount.
"Evening is short in Africa;from daylight to the darkness of night is perhaps just one hour.
The burning heat of the Luangwa valley in Zambia, at midday, when nothing seems
to stir, gradually gives way to the cool of the evening and the shadows lengthen.
Then, quite suddenly, it is dark, and life awakes to the vibrant sounds of the African night.
Late afternoon and evening is the time when elephants will think of water, and
the long trek down to drink in the Luangwa river will begin. The lions are
content. Their bellies are full, from a previous night's kill, and they will not stir for many
an hour. The zebra and buck will know they will be able to graze without fear tonight.
All is at peace, in the evening, in the Valley."
30 years experience and a collection of hundreds of David Shepherd signed, limited edition prints in the UK!
Studio open, 7 days a week!
Viewing by appointment
We specialize in
signed prints
and original paintings and drawings by the world acclaimed
artist L.S.
Lowry.
The demand for his work has now reached record highs, and due to the relatively few signed limited edition prints available,
they are proving to be an excellent investment, much greater than any current banking investments.
A watercolourist, whose work needs little introduction in the world of art is Sir William
Russell
Flint.
We stock hundreds of this artist's signed limited edition prints and always a fine selection of his original watercolour paintings.
Throughout his life Sir William Russell Flint has spent many years painting beautiful watercolour images of scenes in France,
in particular Dordogne and the Perigord, where this beautiful holiday
house
is to let.
and offers complete tranquility and relaxation.
There are also a number of signed limited edition prints of paintings from Britanny, The Loire, Ardeche, Provence.
We have for sale several original paintings from the south west France, near to the beautiful towns of Brantome and Perigueux and also Languedoc
His work has now become regarded as some of the finest watercolour paintings in the world.
Back to
David Shepherd
prints for sale.