Evening in Africa
Signed,Limited Edition Print
David Shepherd
---
---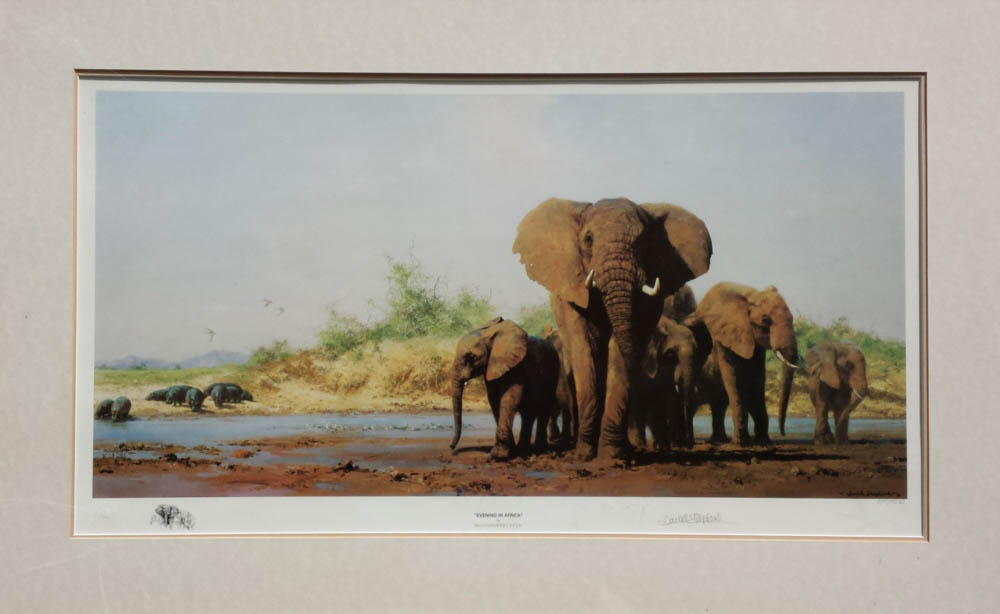 'Evening in Africa.'
Signed Limited Edition print
mint condition,with frame
Date of publication 1995
Image Size:- 15" x 30"
Complete with wash/line french bound mount.
Africa is the world's second-largest and second-most populous continent, after Asia in both cases.
At about 30.3 million kmē including adjacent islands, it covers 6% of Earth's total surface area and 20% of its land area.
With 1.3 billion people as of 2018, it accounts for about 16% of the world's human population
Africa straddles the equator and the prime meridian making it the only continent in the world to be situated in all four cardinal hemispheres.
It is the only continent to stretch from the northern temperate to southern temperate zones.[17] The majority of the continent and its countries are in the Northern Hemisphere,
with a substantial portion and number of countries in the Southern Hemisphere.
Most of the continent lies in the tropics, except for a large part of Western Sahara, Algeria, Libya and Egypt, the northern tip of Mauritania,
the entire territories of Morocco, Ceuta, Melilla, and Tunisia which in turn are located above the tropic of Cancer, in the northern temperate zone.
In the other extreme of the continent, southern Namibia, southern Botswana, great parts of South Africa,
the entire territories of Lesotho and Eswatini and the southern tips of Mozambique and Madagascar are located below the tropic of Capricorn, in the southern temperate zone.
artist L.S.
Lowry.
Sir William
Russell
Flint.
Back to
David Shepherd
prints for sale
30 years experience and a collection of hundreds of David Shepherd signed, limited edition prints in the UK!
Studio open, 7 days a week!
Viewing by appointment