Elephant Heaven (signed limited edition )
David Shepherd
---
---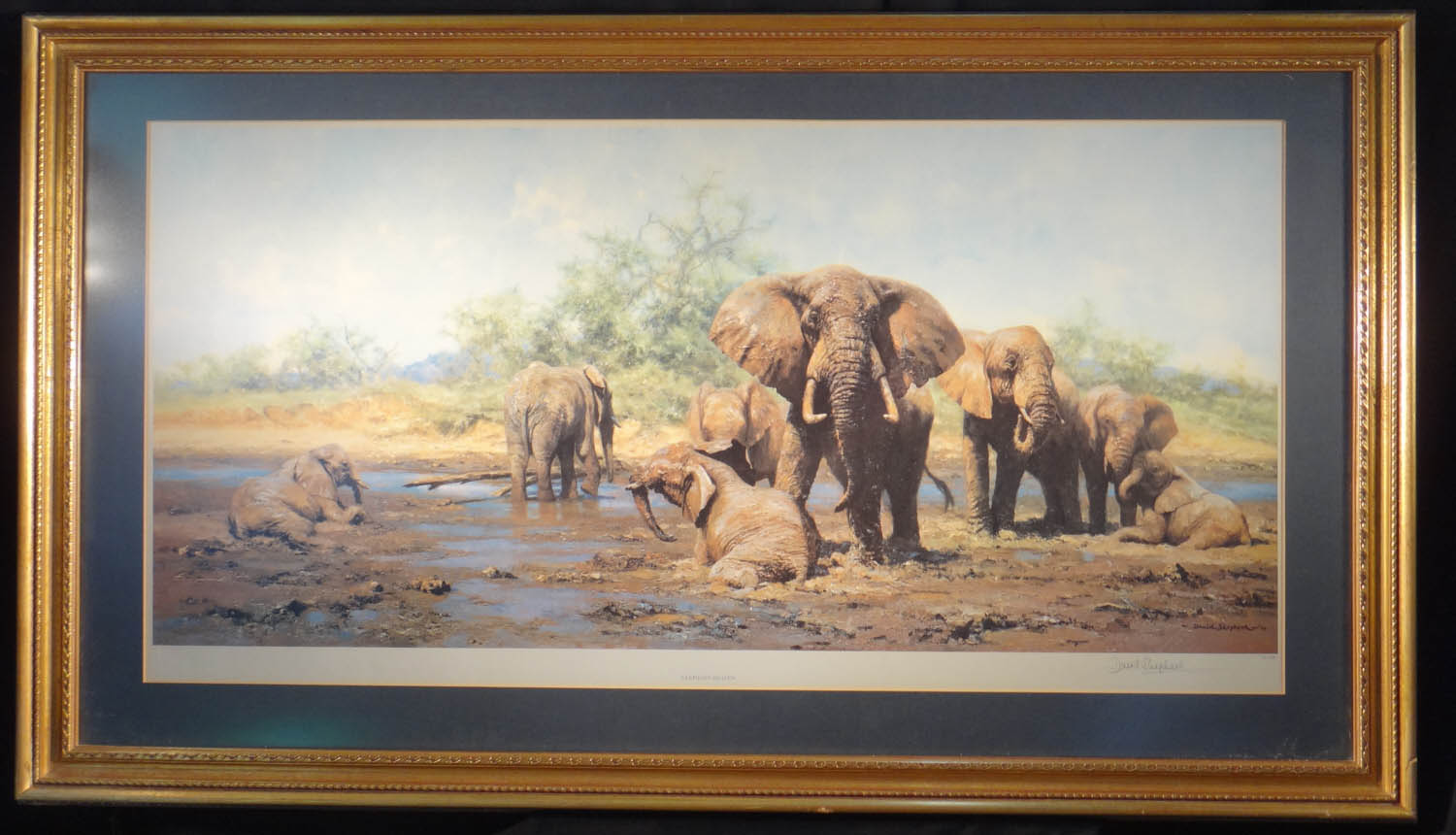 "Elephant heaven"

Signed Limited Edition print

Published 1975

Image Size:- 17.5" x 38"

Elephants are the largest existing land animals. Three living species are currently recognised: the African bush elephant, the African forest elephant, and the Asian elephant.
They are an informal grouping within the proboscidean family Elephantidae. Elephantidae is the only surviving family of proboscideans; extinct members include the mastodons.
Elephantidae also contains several extinct groups, including the mammoths and straight-tusked elephants. African elephants have larger ears and concave backs, whereas Asian elephants have smaller ears, and convex or level backs.
The trunk is used for breathing, bringing food and water to the mouth, and grasping objects. Tusks, which are derived from the incisor teeth, serve both as weapons and as tools for moving objects and digging.
The large ear flaps assist in maintaining a constant body temperature as well as in communication.
The pillar-like legs carry their great weight.

EMAIL:- Click here
Telephone England 01623 799 309

signed prints by the world acclaimed artist L.S.Lowry.
Sir William Russell Flint.
© S & W signed, limited edition print publishers © David Shepherd prints

If you would like to visit the studio in Nottinghamshire, (Saturdays and Sundays are fine too) Please call 01623 799 309 We have a collection of over 500 David Shepherd signed limited edition prints and original paintings for sale.
30 years experience and a collection of hundreds of David Shepherd, limited editions!
Studio open, 7 days a week!
Viewing by appointment
Back to
David Shepherd prints
for sale