Learn More About The Increasing Value Of Art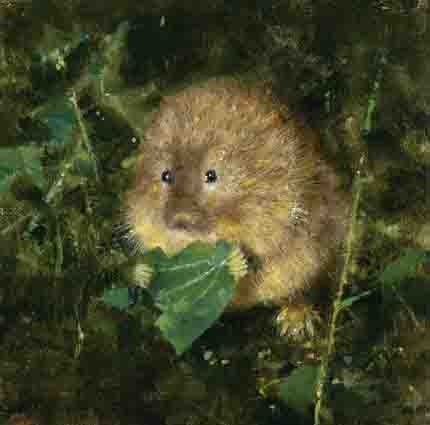 "Water Vole"
Signed Limited Edition print
Published April 2005
Image Size:- 6" x 6"
Learn More About The Increasing Value Of Art
by David Tatham There are very few things in this world that change in the monetary value aspect. Art has proven time and time again to be a sound investment, as well as a usually ever growing one. The art world may be full of many varied opinions on what makes for good investment, but this problem is easily overcome by having the right information and companies with know how on the subject. It has been for many an excellent choice in their capital savings over the years, who to start, knew very little about the art world. Once some start in the world of fine artwork, they become captivated by all the opportunities it offers, as well as extra bonuses such as showing off a beautiful piece to visitors. It is seen as one of the best ways to invest money, only bested by property. If you are uncertain about what is essentially good in many peoples eyes when buying an item, then do not hesitate to find second opinions on a piece. Buying something only to later realize with proper inspection that it is not what they wanted or even liked can set some people back. The reality is that purchasing an exceptional artwork is easy if you have a passion for the medium. The field is seen as a great store of wealth and value with the turmoil of global financial markets. With exceptional room to grow in an investment-portfolio, adding depth to your method of saving. There are some that have been very lucky in their buys, accumulating much more wealth from what their initial amount was. Emerging artists allow for the investor to dip into a "more rewards - more risk" field of purchasing. Some of these purchases have given people amazing rewards for the little money they may have put in it. Buying an older more established painting or craft-work can allow for a more stable and reliable return. As with other markets, there are many factors that increase your capital, such as the unfortunate death of an artists, which would boost the value in most cases. The appreciation and love of art should always be a driving factor in deciding to go into the value side of what each thing might be. Many people have a large part of their portfolio in artworks, and some have seen as much as 22-fold increases on their initial sums. It is both a great store of money as well as a fantastic hobby that might become a part of who you are and what you want out of life. Maintenance of any masterpiece is essential to keep it in its best possible condition for resale later. It is advised to have everything you may buy from the art world insured, and keep up to date with possible changes in the worth of each piece. Anyone with spare money can become an investor, adding both security as well as building reputations in some cases. Art has been, for centuries, a highly prized part of any entrepreneur's arsenal of goods that keep them afloat in an ever changing economic world. Take easy steps to get your hands on a masterpiece that may ensure solid lifelong financial security. Pieces are sometimes commissioned in exhibits from their owners, offering another way to make some money off of it.
Biography of wildlife artist, David Shepherd, CBE, FRSA, FRGS, OBE.
Known as possibly the world's finest wildlife artist. David Shepherd having worked for many years as an artist across the world, His role as a conservationist is passionately believed, and he has always felt that he had a obligation to help conserve the world and the animals that we live amongst.
During his lifetime, David Shepherd has painted and drawn hundreds, if not thousands of images, and loves to talk to people of the many experiences he has had whilst travelling and painting throughout the world, often talking at charity dinners and other prestigeous social events. His personality is beautifully suited to this cause, as his easy going and straight forward attitude comes across well to express the love of art and his feelings for the ever decreasing wildlife in the world. As a young man, luck often deals its hand, and this was no exception, he wasn't particularly keen about other college activities.
David Shepherd is often heard explaining that during his ealier years his life was anything but successful, his main ambition was to be an African game warden. When his studying was done, David Shepherd left England with the hope of a life within the national parks of Africa. Sadly, these hopes were dashed in the first instance, and he was informed by the head game warden that there were no vacancies, his dreams were in tatters. Throughout school days, his foremost curiosity in art had been as a substitute for the compulsary games of rugby which left him with a fear of dread.
Unable to understand what would possibly possess people to roll around a muddy rugby pitch and endure horrible injury, he took refuge in the faculty artwork department where he produced a hideous picture of some birds, which he brings along with him to this present day when public speaking.
After his dissappointment at not been given the chance to be part of Kenya's game warden neighborhood, he managed to find a job in a neighborhood resort on the coast working within the reception for one pound per week. He painted some images of birds, and luckily sold a few, to save enough money to return home on the only suitable form of transport at that time, a steam ship.
On arrival in England there appeared to be two choices for his career. 1) He could possibly become an artist, or more likely, he could be a bus driver. Careful decision seemed to make the bus driving by far the less risky choice, as everyone knew that most artists had little money and even less prospects. It was at this time David Shepherd's father helped him, by encouraging him to seek some formal traing for his artistic leanings.
David Shepherd went for an interview to Slade school of fine art in London with his bird picture, and was promptly told that he had little artistic ability and that any lessons would be of little use. The bus driver idea was staring to look like the other option, then by shere chance, he met the highly skilled marine artist, Robin Goodwin. Unfortunately, Robin did not take on apprentices, but somehow David Shepherd became an exception to the rule, and he agreed to see some of David's work. Within twenty four hours, he arrived at Robin Goodwin's home in Chelsea with his 'bird' painting, and to his absolute delight Robin Goodwin agreed to teach him. It is because due to the teachings of this artist that David was able to show his true talent, and has at all times a feeling of deep gratitude for the help he was given by from Robin Goodwin.
Books
David Shepherd's first autobiographical book 'The Man Who Loves Giants' was published in 1976 which very quickly became a best seller. This was revised and updated in 1989 as subsequent editions were published. A second book illustrating his love for steam trains was published in 1984 'A Brush With Steam' and in 1985 'The Man and his Paintings' was the first comprehensive book showing a complete spectrum of David's work. 'An Artist in Conservation' was released in 1992 which illustrated some of Mr Shepherd's finest paintings. 'My Painting Life' and 'Only One World' were published in 1995 'Painting with David Shepherd, Unique Studio Secrets Revealed' was published in 2004
TV Documentaries
'The Man Who Loved Giants' was the title for this film of David Shepherd's life story produced in 1972 by the late James Stewart.
The documentary was shown worldwide.
'The Last Train to Mulobezi' tells an exciting story of the survival of an ancient locomotive and railway coach from the Zambezi
Sawmills Railway and their 12,000 mile journey back to England.
The train was given as a gift by Dr Kenneth Kaunda, the President of Zambia, and after raising enough money
through the sale of paintings in USA. A helicopter was bought and given to Zambia to help prevent poaching.
Thames TV produced a series of six half hour programmes titled 'In Search of Wildlife'
Illustrating the plight of endangered mammals throughout the world. These were later broadcast in the USA.
'Nature Watch' with Julian Pettifer began in 1990 and David Shepherd produced the first programme in the series.
Last but not least, David Shepherd has been the subject of the programme 'This is Your Life'.
Awards.

1971 Honorary Degree in Fine Arts by the Pratt Institute in New York.
1973 The Order of the Golden Ark by HRH The Prince of The Netherlands for his services to conservation.
1979 Member of Honour of the World Wide Fund for Nature
The Order of the British Empire for his services to wildlife conservation. O.B.E.
1986 Fellow of the Royal Society of Arts.
1988 President Kenneth Kaunda of Zambia awarded him with the Order of Distinguished Service.
was made a Fellow of the Royal Geographical Society
Honorary Doctorate of Science of Hatfield Polytechnic (now the University of Hertfordshire) in 1990.
1996 Officer (Brother) of the Order of St. John.
2004 Granted the Freedom of the City of London.
2008 Awarded a C.B.E. for services to charity and wildlife
The Artist and Conservationist today.
Tirelessly travelling, Mr Shepherd travels one part of the world to another. Admired and respected by many,
He is regarded as being the world's leading wildlife painter. His signed, limited edition prints can be seen in many homes
throughout the world and he is always busy and enjoying his life to the best of his abilty.
Having celebrated his 70th birthday on 25th April 2001 with a fundraising dinner at the Natural History Museum,
which raised over £100,000 for's wildlife projects.
He has last year celebrated his 80th birthday with another successful fundraising dinner at the Natural History Museum,
attended by a host of celebrities and many admirers of his work.
If you would like to visit the studio in Nottinghamshire, (Saturdays and Sundays are fine too) Please call 01623 799 309
We have a collection of over 500 signed limited edition prints and original paintings for sale.
A viewing can also be arranged at your home.
We specialize in
signed prints
and original paintings and drawings by the world acclaimed artist L.S.
Lowry
.
The demand for his work has now reached record highs, and due to the relatively few signed limited edition prints available,
they are proving to be an excellent investment, much greater than any current banking investments.
A watercolourist, whose work needs little introduction in the world of art is Sir William
Russell
Flint.
We stock hundreds of this artist's signed limited edition prints and always a fine selection of his original watercolour paintings.
Throughout his life Sir William Russell Flint has spent many years painting beautiful watercolour images of scenes in France,
in particular Dordogne and the Perigord, where this beautiful holiday
house
is to let click here
and offers complete tranquility and relaxation.
There are also a number of signed limited edition prints of paintings from Britanny, The Loire, Ardeche, Provence.
We have for sale several original paintings from the south west France, near to the beautiful towns of Brantome and Perigueux and also Languedoc
His work has now become regarded as some of the finest watercolour paintings in the world.
Back to
David Shepherd
prints for sale A large collection of
David Shepherd signed prints for sale
can be viewed at purchased on the website.
We shall do our utmost to provide you with a first class service at the best possible price