---
Buying Art Prints For Presents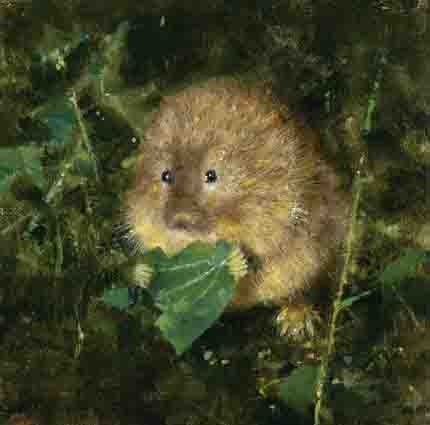 "Water Vole"
Signed Limited Edition print
Published April 2005
Image Size:- 6" x 6"
Buying Art Prints For Presents by David Tatham Beautiful art work is an inspiration for a large number of people who are impressed by it. Such master pieces are valued by lovers and critics both emotionally as well as for investment purposes. While many people are unable to afford the original pieces, the option of prints makes it possible for them to own these.
These are affordable alternatives that provide the same kind of beauty and appeal to the buyers. Moreover, you can find prints that fit any budget and are appropriate for all kinds of occasions. However, you need to understand a few basic things about signed limited edition prints before you begin searching for them.
Original master pieces are generally depicted using articulate precision on some kinds of materials like paper. The art prints are not reproductions of the original created by another artist. The prints are commonly referred to as impressions and can be created using different techniques.
Some of the most commonly used methods include ink jet printing, screen printing, digital printing, and lithography. Impressions can be made of any kinds of artwork, which includes paintings, drawings, and photographs. The type of method used to create the impression defines the types of art prints created.
The quality of the prints and its similarity to the originals depends on the technique used, materials used, and the equipments used. Some kinds of methods are more suitable to specific works while being inappropriate for others. Digital printing is used to create impressions of digital pictures while giclee printing is more suitable for creating impressions of paintings.
When you are looking for these prints, you need to pay close attention to the material and technique used to create the impressions. Commonly, paper is used to create impressions and the quality of the paper differs in texture and appearance. The best type of paper used to create long lasting impressions is archival paper, which is free from all acids.
You need to consider the taste and preferences of the person for whom you are choosing the gifts. The market provides a wide variety of choices that ensures you can find something appropriate for the receiver. You can choose a famous wildlife painting or contemporary works, or a print of the person's favorite rock band.
When looking to buy such prints, you must always search for a well known, reliable, and reputed dealer. You can ask your friends or family members to recommend dealers or browse the Internet to read the reviews provided by other users. The chosen dealer should have been in the business for some years and should operate ethically.
Before making your purchase, you should check the quality of the print and its condition. The print must last for several years, which makes it necessary that the material used is of a superior quality. The paper should be at least sixty seven lb, with acidity between pH7 and pH10 and light fast ranking of six or more. Finally, you must protect the investment by using frames to preserve the art pieces using acid free matting available in different textures and colors.
Biography of wildlife artist, David Shepherd, CBE, FRSA, FRGS, OBE.
Known as possibly the world's finest wildlife artist. David Shepherd having worked for many years as an artist across the world,
His role as a conservationist is passionately believed, and he has always felt that he had a obligation to help conserve the world and the animals that we live amongst.
During his lifetime, David Shepherd has painted and drawn hundreds, if not thousands of images, and loves to talk to people of the many experiences he has had whilst travelling and painting throughout the world, often talking at charity dinners and other prestigeous social events. His personality is beautifully suited to this cause, as his easy going and straight forward attitude comes across well to express the love of art and his feelings for the ever decreasing wildlife in the world. As a young man, luck often deals its hand, and this was no exception, he wasn't particularly keen about other college activities.
David Shepherd is often heard explaining that during his ealier years his life was anything but successful, his main ambition was to be an African game warden. When his studying was done, David Shepherd left England with the hope of a life within the national parks of Africa. Sadly, these hopes were dashed in the first instance, and he was informed by the head game warden that there were no vacancies, his dreams were in tatters. Throughout school days, his foremost curiosity in art had been as a substitute for the compulsary games of rugby which left him with a fear of dread.
Unable to understand what would possibly possess people to roll around a muddy rugby pitch and endure horrible injury, he took refuge in the faculty artwork department where he produced a hideous picture of some birds, which he brings along with him to this present day when public speaking.
After his dissappointment at not been given the chance to be part of Kenya's game warden neighborhood, he managed to find a job in a neighborhood resort on the coast working within the reception for one pound per week. He painted some images of birds, and luckily sold a few, to save enough money to return home on the only suitable form of transport at that time, a steam ship.
On arrival in England there appeared to be two choices for his career. 1) He could possibly become an artist, or more likely, he could be a bus driver. Careful decision seemed to make the bus driving by far the less risky choice, as everyone knew that most artists had little money and even less prospects. It was at this time David Shepherd's father helped him, by encouraging him to seek some formal traing for his artistic leanings.
David Shepherd went for an interview to Slade school of fine art in London with his bird picture, and was promptly told that he had little artistic ability and that any lessons would be of little use. The bus driver idea was staring to look like the other option, then by shere chance, he met the highly skilled marine artist, Robin Goodwin. Unfortunately, Robin did not take on apprentices, but somehow David Shepherd became an exception to the rule, and he agreed to see some of David's work. Within twenty four hours, he arrived at Robin Goodwin's home in Chelsea with his 'bird' painting, and to his absolute delight Robin Goodwin agreed to teach him. It is because due to the teachings of this artist that David was able to show his true talent, and has at all times a feeling of deep gratitude for the help he was given by from Robin Goodwin.
Books
David Shepherd's first autobiographical book 'The Man Who Loves Giants' was published in 1976 which very quickly became a best seller. This was revised and updated in 1989 as subsequent editions were published. A second book illustrating his love for steam trains was published in 1984 'A Brush With Steam' and in 1985 'The Man and his Paintings' was the first comprehensive book showing a complete spectrum of David's work. 'An Artist in Conservation' was released in 1992 which illustrated some of Mr Shepherd's finest paintings. 'My Painting Life' and 'Only One World' were published in 1995 'Painting with David Shepherd, Unique Studio Secrets Revealed' was published in 2004
TV Documentaries
'The Man Who Loved Giants' was the title for this film of David Shepherd's life story produced in 1972 by the late James Stewart.
The documentary was shown worldwide.
'The Last Train to Mulobezi' tells an exciting story of the survival of an ancient locomotive and railway coach from the Zambezi
Sawmills Railway and their 12,000 mile journey back to England.
The train was given as a gift by Dr Kenneth Kaunda, the President of Zambia, and after raising enough money
through the sale of paintings in USA. A helicopter was bought and given to Zambia to help prevent poaching.
Thames TV produced a series of six half hour programmes titled 'In Search of Wildlife'
Illustrating the plight of endangered mammals throughout the world. These were later broadcast in the USA.
'Nature Watch' with Julian Pettifer began in 1990 and David Shepherd produced the first programme in the series.
Last but not least, David Shepherd has been the subject of the programme 'This is Your Life'.
Awards.

1971 Honorary Degree in Fine Arts by the Pratt Institute in New York.
1973 The Order of the Golden Ark by HRH The Prince of The Netherlands for his services to conservation.
1979 Member of Honour of the World Wide Fund for Nature
The Order of the British Empire for his services to wildlife conservation. O.B.E.
1986 Fellow of the Royal Society of Arts.
1988 President Kenneth Kaunda of Zambia awarded him with the Order of Distinguished Service.
was made a Fellow of the Royal Geographical Society
Honorary Doctorate of Science of Hatfield Polytechnic (now the University of Hertfordshire) in 1990.
1996 Officer (Brother) of the Order of St. John.
2004 Granted the Freedom of the City of London.
2008 Awarded a C.B.E. for services to charity and wildlife
If you would like to visit the studio in Nottinghamshire, (Saturdays and Sundays are fine too) Please call 01623 799 309
We have a collection of over 500 signed limited edition prints and original paintings for sale .
We specialize in
signed prints
and original paintings and drawings by the world acclaimed artist L.S. Lowry
click
.
The demand for his work has now reached record highs, and due to the relatively few signed limited edition prints available,
they are proving to be an excellent investment, much greater than any current banking investments.
A watercolourist, whose work needs little introduction in the world of art is Sir William Russell Flint
read
here.
We stock hundreds of this artist's signed limited edition prints and always a fine selection of his original watercolour paintings.
Throughout his life Sir William Russell Flint has spent many years painting beautiful watercolour images of scenes in France,
in particular Dordogne and the Perigord, where this beautiful holiday house is to let click
here
and offers complete tranquility and relaxation.
There are also a number of signed limited edition prints of paintings from Britanny, The Loire, Ardeche, Provence.
We have for sale several original paintings from the south west France, near to the beautiful towns of Brantome and Perigueux and also Languedoc
His work has now become regarded as some of the finest watercolour paintings in the world.